We leave crumbs of our wandering souls in every town we visit, waiting for other itinerants to rekindle them with a life of their own and wander all over again. We spend our lives hoping and dreaming that somewhere in those cities our laughter still echoes; and our spontaneous dreams still live on in the memories of passing strangers. And I still wonder – what is life if not a sum total of a million memories created by us and those deep in the sub-conscious of lives we once touched?
With mad dreams of living in every city we visit, we started walking on the narrow streets of Oslo's down town. In these streets you would expect cars and trams to jostle for space and possibly be constrained by the design, but to our surprise, the traffic was as smooth as can be expected. Oslo was our first port of call in Norway as we embarked on a 10 day vacation to the land of the midnight sun.
Mumbai – Oslo: We need those backpacks!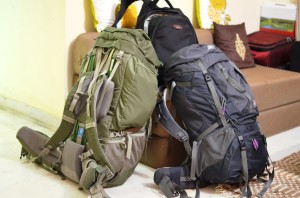 I insisted that we only take our backpacks and nothing else for this trip. It was going to be one big rampage through Norway – living in a different hotel and a different city every night! After the epic year that 2012 was, we weren't getting our travel addiction fulfilled in 2013 as much as we should have. Suffice to say that 2012 will never come again. So one day we were sitting and talking travel like we do on those innumerable evenings and we both hit upon the idea of traveling to a Scandinavian country. We realized that Aurora Borealis was not something that can be easily seen, you need to be very lucky for that. So we decided to pick Norway during summer and explore the Fjords and the beautiful arctic region of Tromsø. On August 9th, we left for Oslo, Norway.
Oslo – A metropolitan dream
Oslo is the largest city and the capital of Norway – however unlike other large cities like Mumbai or New York or San Francisco, Oslo does not give the vibe of a ruthless, unrelenting city where vice and dream co-exist in almost an eerie cadence. Instead Oslo seems much more poised and sure of itself and its denizens and more confident of itself in an almost self actualized way.
Multiple modes of transportation co-exist here and its easy to get around all the well-defined zones of Oslo metropolitan area. The first thing we noticed when we landed in Oslo, was how easy and cheap it was to get to the city centre from the airport in Gardermoen which is a good 51 km. away. There are two train options to get to the Oslo Central Station (Oslo sentralstasjon, Oslo S) – Flytoget (Express Service) and NSB (Regular service). We realized that the regular service was nearly half the price of the Flytoget and took only about 10 extra minutes to get to Oslo S. A quick 25 minute train ride later we were at Oslo S which is a sprawling complex in the middle of the city.
Oslo Central station is the kind of a place where everything comes to a beautiful start and a melancholic end – be it travels, or be it great times spent with friends. You can see people amble around with their parents and friends and fiddling with their luggage. There are young people with sparkling eyes ready to get out of Norway and see the world and then there are the middle-aged ones who are coming home with hesitation and anxiety about their way back into the place where they belong.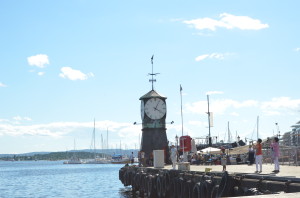 We decided to walk to Anker Hotel where we were living for the first night in Oslo – it is conveniently located about a km from the central station. The best way to see a city is by walking – I have always maintained this and I always tried to live by this code. Neha and I started walking towards Storgata where the hotel was located. We passed by some old architecture and several small bars where locals were sitting and enjoying a beer or two. Summers in Norway are not very hot, in fact you almost always need a light jacket while you are walking outside. We were jet lagged and decided to sleep for a couple of hours before we headed out to Aker Brygge.
Aker Brygge is the waterfront of Oslo where a lot of cafes and bars dot the shoreline. It is made in place of a former shipyard which was shutdown in 1982. We had a quick dinner at Olivias restaurant with some lovely beer called Ringnes Lager (available on tap in a very few places in Norway).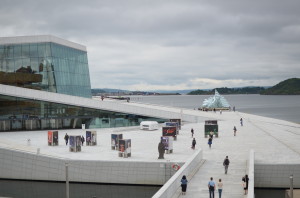 The next day we started off early, but realized that this city really does enjoy its weekends. Most of the restaurants and shops were closed – even for breakfast at 9 am. We decided to walk around the city as it was the best time to see the city in its real self, not dotted with tourists. We started by taking a tram to the Opera House. The Opera House has a unique construction such that its roof meets the floor. You can literally walk up to the roof after entering its premises.
After walking around the Opera House we decided to explore the city area a little bit and we went to Youngstorget which is a nice lively area with several cafes and fruit vendors. As we walked around we saw a church called Oslo Domkirke (Oslo Cathedral). It had beautiful architecture and was more than 300 years old.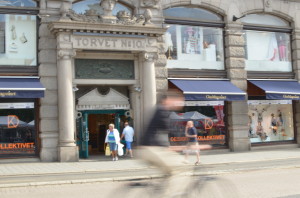 As we made our way around Youngstorget sqaure, we saw the city slowly coming to life – we sat at a bus station and saw the people beginning to amble around with their daily routines. Shops opening at their pre-defined times, young boys delivering flowers on bicycles, older men and women taking a leisurely walk, several middle-aged ladies walking their dogs and buying fruits and vegetables from the farmers market. It is beautiful to see a city wake up. You feel like you are a part of the city, as if you've always lived here and these walls and these streets have always been your best friends. A few more minutes here and we would have started confiding in the city, our deepest secrets.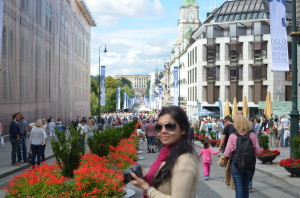 We had breakfast and coffee at Politikken Cafe which reminded us a lot of Granada, Nicaragua – with its Spanish architecture and flowers hanging all around the place giving it a breath of fresh air! After breakfast we moved on to the most famous street in Oslo called the Karl Johan's gate. Its a walking street with several restaurants and shops dotting both sides. The street leads all the way to the Royal Palace. Our intention was to witness the change of guards that happens everyday at 1:30 PM. On our way back we took a wrong turn and got lost a little bit. We were helped by a helpful guy who seemed to be pretty knowledgeable about the world and expressed keen interest in visiting India.
We had lunch at Fiskeriat which was a fish market that served some delicious food and beer. It was a quaint little cafe outside the Folketeaterat (Folk Theatre) overlooking the Youngstorget square and its fountain which was lying defunct and under renovation.
Contrary to what many make you believe about Scandinavian countries, the people in Oslo were a happy lot and did not look depressed or perpetually sad. It could be due to the summer, but I found it hard to believe that these happy and helpful folks would be gloomy come winter. It was time to head to the Central station and make our way west to Bergen.
Bergen – a backpackers dream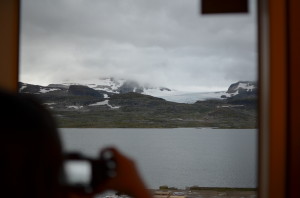 The Bergen Railway is one of the most spectacular and highest railways in Europe. The train ride from Oslo to Bergen is close to 8 hours. During this ride the Bergen line snakes through several mountains and multiple tunnels. The views on either side are spectacular – from small lakes to snow capped mountains. Finse is the highest stop on the Bergen Line and it is also a place where several tourists disembark to go on Glacier adventures during winter and bicycle tours during summer. We spent much of our time admiring the landscapes that rolled by us.
We reached Bergen past midnight and all we could do was walk to Bergen YMCA, where we were booked for the night, and hit the sack. To our surprise the little town seemed to be bursting with energy even at that hour. Bergen YMCA has an awesome location and it is a stones throw away from Bryggen Wharf which is the melting pot of everything that happens in Bergen. We caught a late night dinner at a Subway and hit the sack since we had an early morning the next day. We would be coming back to Bergen after a 3 day escape to Sognefjord and decided to see more of Bergen then.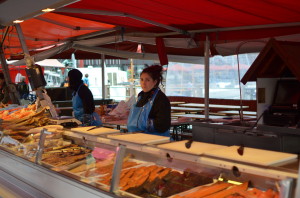 Early next morning we walked around at Bryggen Wharf through the fish market where cheerful vendors were selling the fresh catch as well as cooking delicious meals right there. It was a seafood lovers paradise and Neha was ecstatic. We went to a place called Fiskertorget and had a beer and some really nice food. Everywhere in Norway you will find two things which they make amazingly well – Pumpernickel bread and aioli.
Around 2 PM, it was time to visit Avis to get our rental car and head on out to our little road trip to Flåm which is a small town on the inner end of Aurlandsfjord which is a part of the larger Sognefjord. Once we reached Avis, while we spoke to the representative there, he told us about a fire in the Gudvanga tunnel which connects Gudvangen to Flåm. This way the travel time would be about 3.5-4 hours. Due to the shutdown in the tunnel we would have to go all the way around via Voss and reach Flåm via an alternate way. This meant a travel time of 6-7 hours and also meant we would have to take multiple car ferries. The upside was a longer road trip – which we love as well as the fact that we would get to drive through the longest tunnel in the world – Lærdal tunnel which is about 24.5 km. long.
Flåm and Vatnahalsen – The Norwegian postcards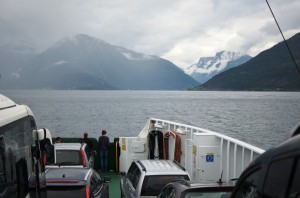 We left Bergen at about 2 PM and made our way east along the E16 to Voss, from where we headed North to Vangsnes and took two ferries thereafter. Vangsnes –> Hella and Mannaheller –> Fodnes. The ferries were huge. They could accommodate nearly 40-50 cars and about 4-5 full-size buses.
We reached Flam at abobut 8:30 PM and we had a 2 night reservation in Vatnahalsen which was a short train ride up the mountains via Flam railway. We were late and had missed the last train up. A few frantic phone calls later we had managed to cancel that booking and made another one at the Fretheim Hotel in Flam. It was a beautiful hotel with great views of the Flam valley and Aurlandsfjord. We got one of the last remaining rooms and then headed out to get some dinner. Being a small town, most of the restaurants had closed – the only place open was Ægir Brewery. We wanted to go to Ægir for some beer but at the same time were hungry. At the last minute after Neha spoke to the bartender they gave us a table for dinner! The wheat beer and the dinner were just out of the world and after a long days drive they felt even more relaxing and delicious.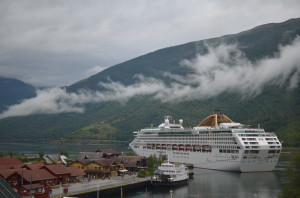 Flam is absolutely beautiful at night. The glistening waters of the Aurlandsfjord coupled with the dimly lit little cafes and hotels give it a picturesque look. We quietly walked back to the hotel while most of the tourists were fast asleep. It was a beautiful evening and we slept well.
Flam has a peculiar problem. It has a cruise ship docking everyday and staying until early evening. During this time the town gets over-run with cranky by-the-book, guided tours, kind of tourists who want to shop and eat and create a huge ruckus. We decided to visit the Stave Church in Borgund while the hordes of cruise ship tourists have their way in Flam.
Borgund was a short 45-minute drive from Flam. The Stave Church at Borgund is highly recommended for its sheer beauty and architecture. The entire church is made of wood including the pegs to hold and support the various beams and columns. Knees of pine trees have been used to support the beams and the roof. The church itself is nearly 900 years old and has weathered the test of time. (Photograph of the Borgund Stave Church is in the title image of this travelogue)
We reached back to Flam in the afternoon and had some nice lunch at Torget Cafe after which it was time to head up the Flam Railway to Vatnahalsen where we were staying for the second night. The only way to reach Vatnahalsen is by the train as there is no road where regular cars can drive up – maybe a 4×4 could go through. Along the way we chatted up some British tourists who were there with family and owned a business of Apple Cider production in the UK. There is a stop on the way up to Vatnahalsen right in front of a large waterfall called Kjosssfossen. Every day during the summer a lady dances at the waterfall resembling a Nordic mythological creature – the Huldra who enchants people through its melodious singing and they disappear into the woods. Once we reached Vatnahlasen we went on a hike to Kjossfossen where we saw the other side of the Huldra dance from far atop.
The next day it was time to say goodbye to the Fjords and head back to Bergen.
Bergen and Oslo – Part II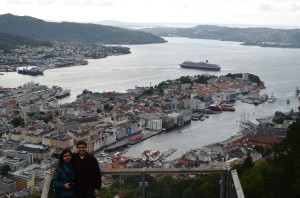 We reached Bergen in the afternoon and decided to take the Mt. Floyen Funicular which is a steep train ride up a hill that overlooks Bergen. Bergen has some beautiful places to eat and drink. We ended up going to Vag which is right opposite the Bergen YMCA. Vag is a collection of several restaurants across different cuisines. Think of it as a sophisticated version of a food court where you can choose from multiple restaurants and they would serve you at your table.
We spent the evening chatting up with our room mates in YMCA and spoke about their travels and our travels so far. Many of the tourists found it hard to believe that we were spending 10 days in Norway and seeing quite a bit of it. Driving, taking the train, taking the ferry, hiking and finally heading into the Arctic – but more on that later.
The next morning it was time to head back to Oslo and its one big convergence point – Oslo Central Station. We had only one evening in Oslo and I cannot begin to describe how inadequate it felt. We were staying at the Anker Hotel again and had a flight to Tromsø next morning. We went straight from Oslo S to Internasjonalen which was a bar on Youngstorget, that we really wanted to visit during our first visit to Oslo. We had a couple of nice local wheat beers whilst sitting outside looking at the city wind up its day. There were tourists and locals both relaxing and drinking away a long day at work or a long day of travels or commute. Each of us had a story tell and moments to forget.
This was goodbye to Oslo and one last beer before we ever come back here again. We both wondered if we ever would. Would we be the same people then as we are now? Would we remember these evenings? Would we hear our laughter tucked away in a quiet corner of this little pub? Nevertheless it was time to head to the Arctic on the final leg of our Nordic adventure.
Tromsø – The Arctic Dream
Tromsø is located about 400 km. inside the arctic circle. A 3 hour flight from Oslo later we arrived at Tromsø airport where we had our rental car waiting. We were staying in a Home stay for the first night and in Radisson Blu on the two subsequent nights. The first day we behaved like we were locals. After settling in we headed out for lunch to Yonas Pizzeria which was right by the shoreline. Later in the evening we headed to Coop Supermarket near the airport. It was located in a mall and we bought some dinner for the night and walked around the mall wondering what it would be like if we lived here. We came back and fixed some dinner while watching a movie in the home stay. It was the closest we felt to being residents of Norway. It was a wonderful feeling and one that will remain with us.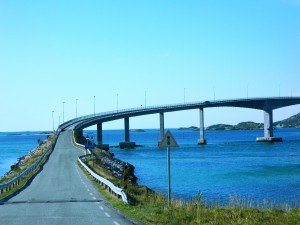 Next morning we checked-in to the Radisson Blu which was in the city centre of Tromsø – we were to stay here for two nights. We had lunch at Aunegården which was an amazing little pub that doubled up as a lunch place. The food was delicious. After lunch we decided to drive up to Sommerøy which was among a collection of islands just off the mainland of Tromsø. The route was beautiful and linked with small bridges over the water.
We did a short hike which overlooked the little hamlet of Sommerøy and it was beautiful. You could see families living down there with children playing outside and dancing in their trampolines. in a short while music started playing in the distance and we realized its an ice-cream truck making rounds of the area. Some children made their way out of their houses to have some ice-cream. I felt like an intruder making my way through their world without invitation. At the same time I almost wished that they would invite me in and open their arms to let me in as a friend, a stranger, a fellow traveler and a world citizen.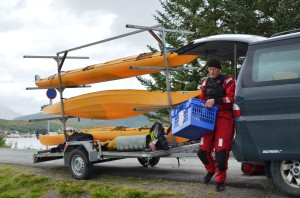 In the evening we went to a small bar called Flyt for dinner and a few beers. We called it a night since we had to wake up early next morning to head out into Sommerøy region again for Kayaking! Our kayaking coach was a Danish guy who had lived in Norway for a while now and wanted to make it his home. The wind was picking up and he advised us to use a double kayak instead of two single kayaks since it would provide more stability. We decided to start from the other side of the road to make sure the waters are calm and we didn't go over since it was out first time kayaking. After kayaking for 30-45 minutes, we decided to take a break and have some coffee and lunch. We pulled over on the side and pitched a little tent since it was getting a bit rainy. We talked about a broad range of topics from culture, religion, marriage, politics, world hunger and how developed countries in Europe were able to maintain a certian standard of living and clean air by pushing all their manufacturing to the developing countries. His name was Jacob and he seemed to be very well traveled.
It was our last evening in Tromsø and we celebrated it by having some pizza at Pepe's Pizza and drinking some beer at No. 24. We also decided to try a Scandinavian drink called Akevitt which is a liquor made of potatoes, fennel and other spices.
It was finally time to go home after spending 10 days in Norway. Until next time – we will dream and we will hope that somewhere here our memories still live….